October 31, 2019
Jamie Fletcher
Healthy Pumpkin Recipes for the Final Days of Fall
It's that time of year again when everyone's favorite festive fall flavor begins to disappear just as quickly as it made its seasonal debut. That's right, we're talking about the impending end of pumpkin-spice season that comes with the end of fall as we transition into the chilly months of winter. With just a few short weeks left to indulge our puckering for pumpkin-everything, we thought we'd celebrate with a pumpkin-filled post with healthy recipes that feature this squash super-star! And while many of us enjoy pumpkin goodies for the taste, the vegetable itself does offer some incredible benefits! Here are just a few of the health highlights that have us craving pumpkin year-round:

Rich in antioxidants to help combat chronic disease and inflammation
Full of vitamin A, E, C as well as iron and folate, all of which help boost our immune system to ward of infection and illness
High in nutrients and low in calories while packing in a hefty dose of fiber to keep you feeling fuller longer
Loaded with potassium, which benefits our heart health
Packed with nutrients and vitamins that promote healthy skin, so you'll look as fabulous as your pumpkin-spice latte makes you feel!
Shown to reduce blood glucose levels and increase the amount of insulin produced in the body to help stabilize blood sugar.
With so many reasons to love pumpkin and so little time to satisfy our squash love, let's jump right into our favorite healthy pumpkin recipes!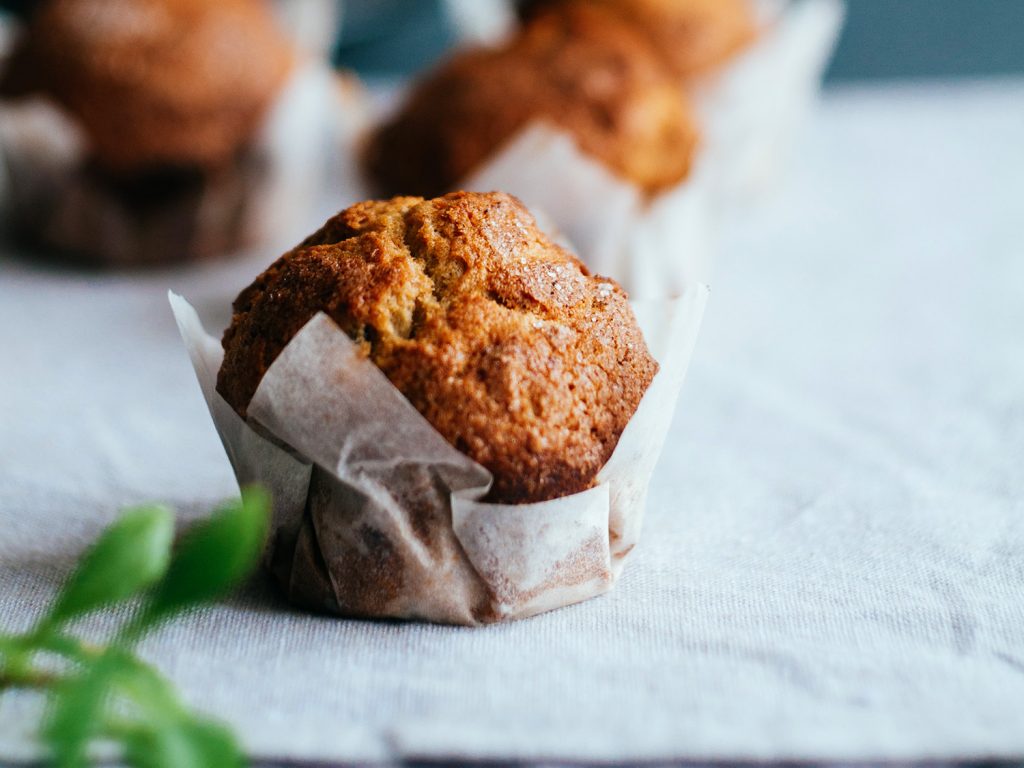 Breakfast
Healthy Whole Wheat Pumpkin Muffins

Ingredients
2 cups whole wheat flour
1 1/2 cups all-purpose flour
2 teaspoons baking soda
1 teaspoon baking powder
1 teaspoon pumpkin pie spice
1/2 teaspoon salt
3/4 cup brown sugar or coconut sugar
½ cup chopped walnuts or pecans (optional)
2 cups pumpkin puree (not pumpkin pie filling!)
1/2 cup vegetable oil
1/4 cup real maple syrup or agave syrup
3 tablespoons milk or milk alternative
3 eggs
Instructions
Preheat the oven to 350 F. Mix the dry ingredients (flours, baking soda, baking powder, pumpkin pie spice, salt, and sugar). In a separate bowl, mix the wet ingredients (pumpkin, oil, maple syrup or agave, milk, and eggs). Finally, stir in nuts if desired.
Combine the dry and wet ingredients in a large mixing bowl, stirring until just combined. Fill each muffin tin ¾ of the way to the top.
Bake for 20 minutes or until tops spring back when you gently press them. Remove from the muffin pan to let cool before you dig in!
Recipe inspired by https://pinchofyum.com/healthy-maple-glazed-pumpkin-muffins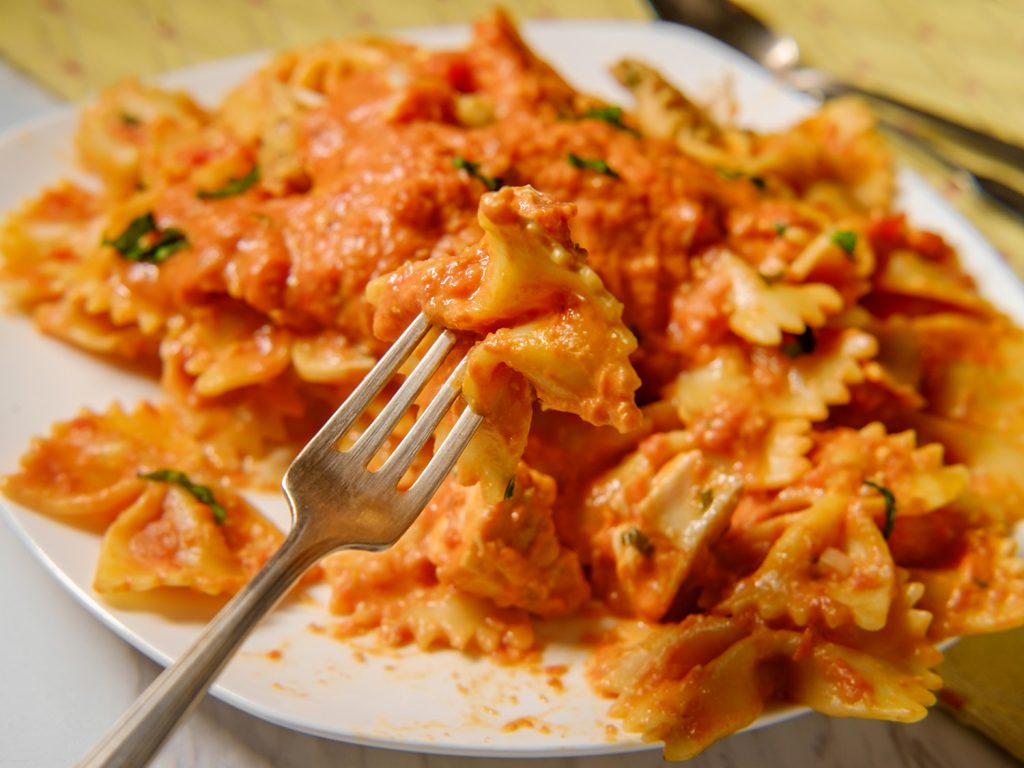 Lunch or Dinner
Healthy Pumpkin Alfredo Pasta:
Ingredients
1 lb bowtie pasta
1 tbsp olive oil
2 chicken breasts, diced
1 tbsp butter or ghee
2 cloves garlic minced
2 tsp flour or coconut flour
1 1/2 cups evaporated milk
2 tbsp heavy cream
1/2 cup pumpkin puree
1 tsp salt
1/2 tsp pepper
1/2 cup parmesan cheese, grated (plus more for serving)
1/2 cup roasted red peppers
8 sage leaves, finely chopped
Instructions
1 Heat a large pot of salted water to boiling. Add pasta and cook for 10-12 minutes until al dente.
Drain and set aside, then dry out pot with paper towel.
Add olive oil and chicken to pot, sauteing for 5-6 minutes until chicken is browned. Remove chicken from heat and set aside.
Add butter to pot. When melted, add garlic, sauteing for 30 seconds, then add flour. Add evaporated milk, cream and pumpkin puree, whisking as it thickens up. Add salt & pepper and parmesan cheese, whisking well to combine.
Add cooked pasta, chicken, sage and roasted red peppers to sauce, tossing to coat and cooking over medium heat for 2-3 minutes until everything is heated through.
Recipe Courtesy of https://thegirlonbloor.com/healthy-one-pot-pumpkin-alfredo/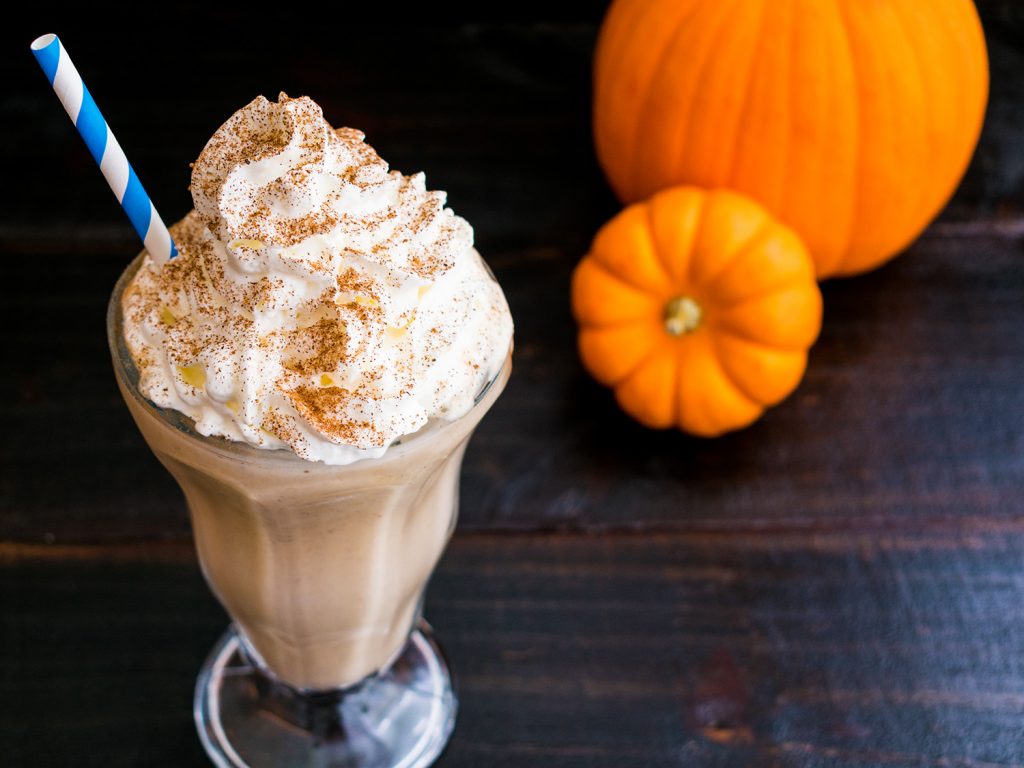 Dessert
Healthy Pumpkin Milkshake
Ingredients
1/2 cup pumpkin puree (not pumpkin pie filling)
1/4 cup nonfat milk or milk alternative of choice
1/2 medium ripe banana
1 1/2 cups Greek yogurt+ 1 tbsp milk or milk alternative (pre-blended and frozen into ice cube tray)
1 teaspoon pumpkin pie spice
1/4 teaspoon ground cinnamon
1 full sheet honey graham cracker
Whipped cream or non-dairy whipped topping to finish off your shake!
Instructions
Pre-blend Greek yogurt with one tablespoon of milk or milk alternative and then pour into an ice cube tray and then place in freezer. Once cubes have frozen, you're ready to prep your shake!
To a high-powered blender, add in order the pumpkin puree, milk, banana, frozen yogurt cubes, pumpkin pie spice, and cinnamon. Break the sheet of graham cracker into a few pieces directly into the blender. Blend until smooth, adding more milk 1 tablespoon at a time as needed to reach your desired consistency.
Divide into glasses and top with additional crushed graham crackers and whipped cream. Serve and sip immediately.
Recipe inspired by https://www.wellplated.com/pumpkin-milkshake/