December 18, 2019
Katie Fletcher
Surgery Prep: Freezer-Friendly Make-Ahead Meals
Are you running through your pre-surgery checklist, trying to plan for anything and everything you might need after your procedure? With so much to think about, we thought we'd handle at least one of your to-do's by bringing you seven healthy recipes that just happen to be freezer-friendly! That means you can whip these delicious dishes up ahead of time so that you can focus on what really matters post-op: recouping and recovering!

At a glance:
Seven delicious, simple, and most importantly healthy meals you can whip up in advance of a surgery!
With these freezer-friendly meals. Simply prep them at your convenience and toss them into the freezer so you'll be locked and loaded with nutritious noms just waiting for you in your kitchen!
One-Pot Sweet Potato, Tomato and Kale Rice Skillet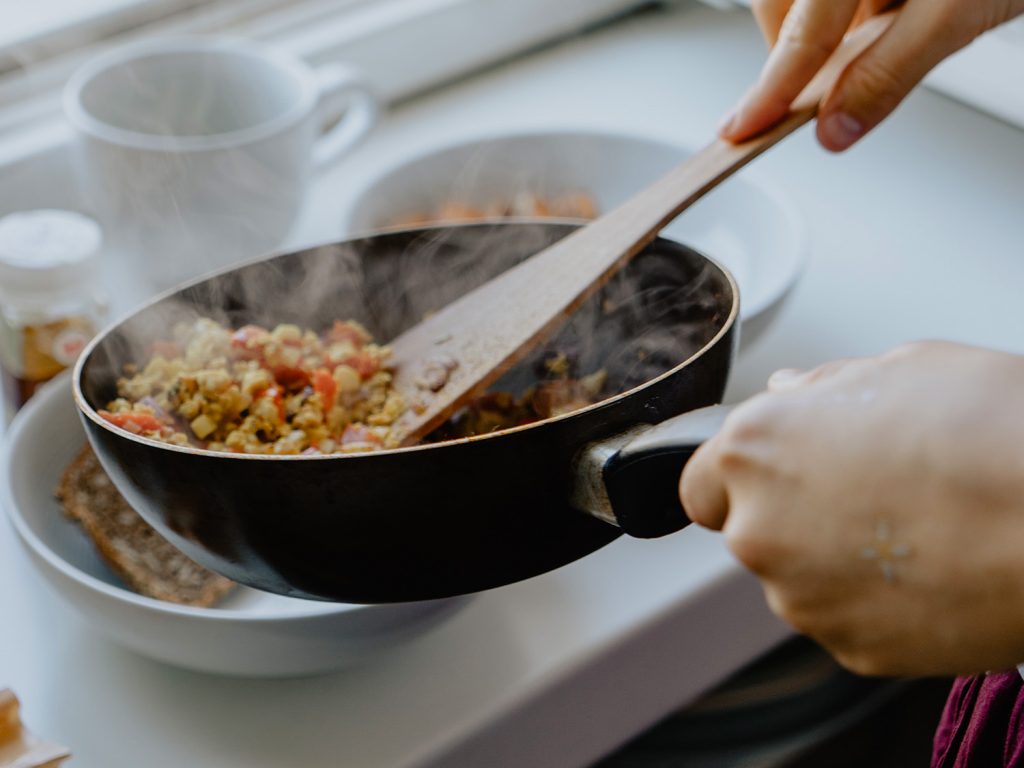 Recipe adapted from: https://www.adashofmegnut.com/one-pot-sweet-potato-tomato-and-kale-rice-skillet/
Cook Time: 45 mins
Total Time: 45 mins
Yields: 6 servings
Ingredients:
1 lb sweet potato cut into 3/4 inch cubes (about 1 cup)
1 tbsp olive oil
2 tsp cumin
12 oz kale or one bunch, stems removed and roughly chopped
14.5 oz low sodium diced tomatoes canned
14.5 oz chickpeas canned, rinsed and drained
1 cup uncooked white or brown rice
2 cups vegetable broth or chicken broth if not vegan
1/4 tsp salt or to taste
1/4 tsp ground black pepper or to taste
Instructions:
1. In a large skillet, preheat oil over medium heat. Add the sweet potatoes and cumin. Cook for 4-5 minutes, until sweet potatoes are seared on all sides.
2.Add chopped kale to the pot and stir until it is wilted. Then add in diced tomatoes and chickpeas and stir until combined.
3. Then, add the uncooked rice. Pour the broth over the skillet and stir until completely combined. Add salt and pepper to taste.
4. Bring to a boil. Once boiling, cover pan with a lid and bring to a simmer.
5. Cook for 20-25 minutes, until rice is fluffy and the chicken broth is mostly absorbed.
6. You may need to stir one or two times throughout the cooking so that the rice doesn't stick to the bottom of the pot.
7. Serve immediately or freeze up to 6 months
Tuscan Lentil Soup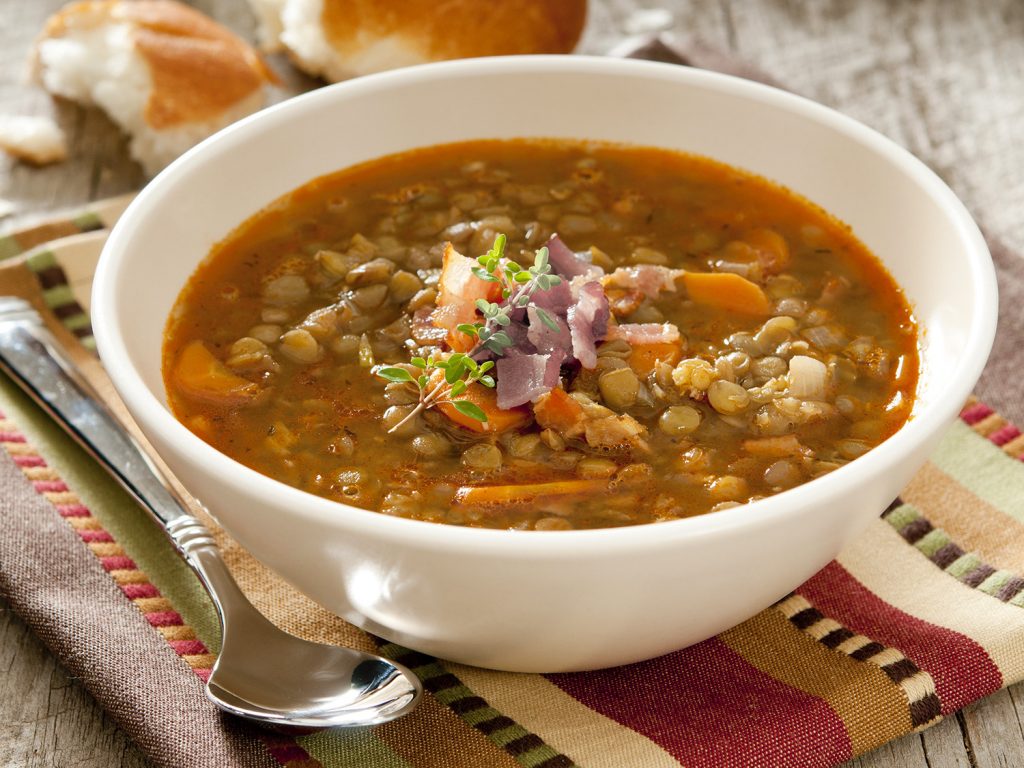 Recipe adapted from: https://www.delishknowledge.com/vegan-tuscan-lentil-soup/
Cook Time: 1 hour
Total Time: 1 hour
Yields: 6 servings
Ingredients:
2 cups dried green or brown lentils
1 tablespoon olive oil
1 cup onion, chopped
2 carrots, chopped
2 celery stalks, chopped
4 garlic cloves, chopped
1 teaspoon dried oregano
1 teaspoon dried basil
1/2 teaspoon crushed red pepper
1 bay leaf
1 28 ounce can diced tomatoes, with juice
4 cups vegetable broth
4 cups torn kale leaves
Instructions:
Place the lentil and 4 cups water in a medium saucepan over medium-heat heat. Bring to a boil, then reduce heat to a simmer. Cook, until just tender, about 25-30 minutes.
Drain, rinse and set aside.
Heat the olive oil in a stock pan over medium heat. Add the onion, carrots and celery. Cook until vegetables are tender, about 5-7 minutes.
Add in the garlic, oregano, basil and crushed red pepper. Stir until just headed through, then add in the bay leaf, tomatoes with juice, lentils and vegetable broth.
Simmer over medium-low heat for 15-20 minutes to let flavors develop. Season to taste as needed with salt and pepper. I tend to start with 1/4 teaspoon and go from there.
Stir in the kale and cook until wilted, about 10 more minutes.
Serve immediately or freeze up to 6 months.
Hearty Vegetable Stew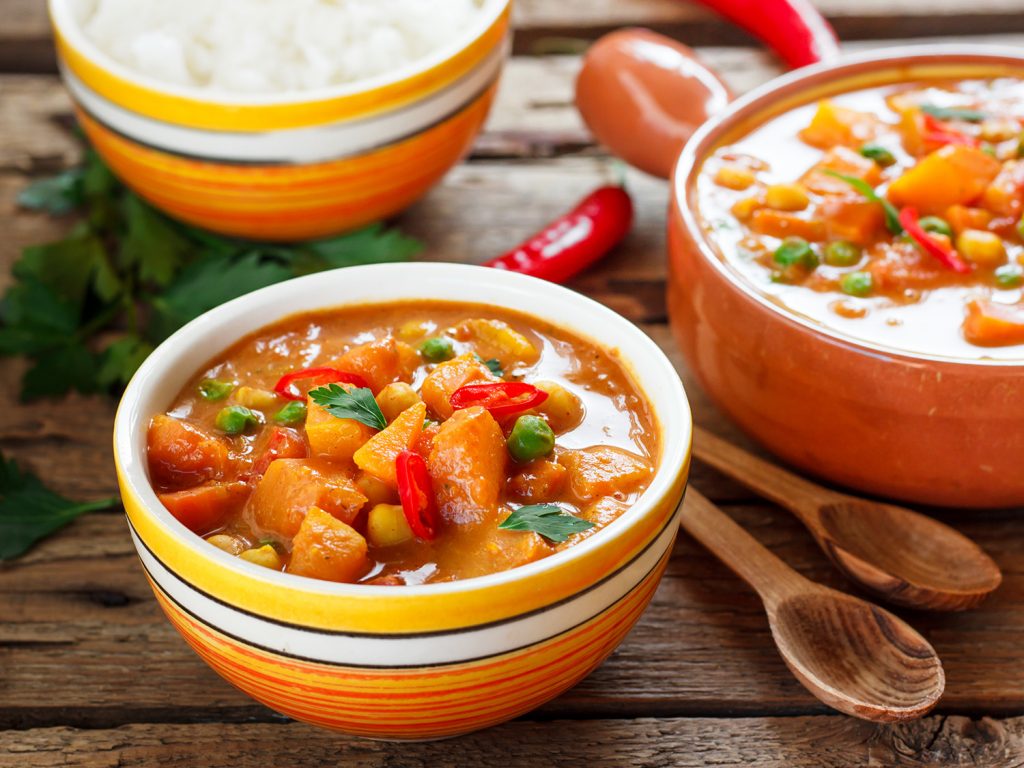 Recipe Adapted From: https://www.brandnewvegan.com/recipes/soups/vegetable-stew
Cook Time: 45 mins
Total Time: 1 hour
Yields: 12 servings
Ingredients:
1 small Onion (minced)
1 clove Garlic (minced)
1 rib Celery (minced)
1 Carrot (minced)
1/4 cup Low Sodium Vegetable Broth
1 large Onion (chopped)
8 oz Button Mushrooms (sliced)
8 oz Portobello Mushrooms (sliced)
1 tsp Dried Rosemary
1 tsp Italian Seasoning
1/2 cup Red Wine (or broth) (but the wine really adds a good flavor)
3 cups Low Sodium Vegetable Broth
1/2 tsp Salt
1/4 tsp Ground Pepper
1 can Diced Tomatoes – no salt added (15oz)
2 medium Carrots (chopped)
2 ribs Celery (chopped)
2 Yukon Gold Potatoes (chopped)
1 can Tomato Sauce (8oz)
1 Tbs Balsamic Vinegar
1 Tbs Cornstarch
1 cup Frozen Peas
Instructions:
Mince the carrot, celery stalk, and small onion very fine.
Saute this mixture in 1/4 cup of veggie broth until the veggies are nice and soft.
Add the large chopped onion and continue cooking until softened.
It's ok if the liquid gets a little low – the brown bits add to the flavor.
Add the mushrooms and cook on medium-high until they lose their liquid.
Season with the rosemary and Italian seasoning.
Add the wine and deglaze any brown spots in your pan.
After a few minutes add the rest of the broth, the tomatoes and tomato sauce.
Add all your chopped veggies and turn the heat up to boil.
Add the rest of the seasonings – but not the cornstarch.
Once it's boiling, turn down the heat to low and add the peas.
Mix the cornstarch with a tablespoon of cold water and stir this in to thicken.
Simmer to desired consistency.
Black Bean and Quinoa Freezer Burritos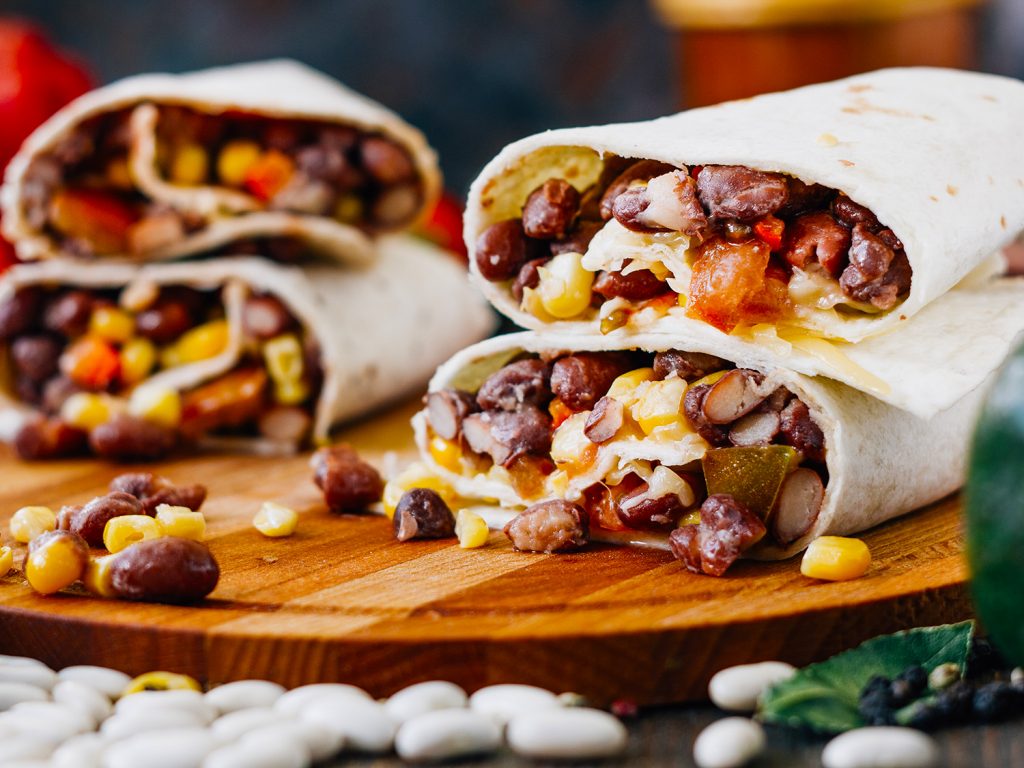 Recipe Adapted From: https://www.heynutritionlady.com/black-bean-and-quinoa-freezer-burritos/
Cook Time: 20 minutes
Total Time: 40 minutes
Yields: 6 servings
Ingredients:
2 Tbsp extra virgin olive oil
1 large yellow onion diced
4 cloves garlic crushed or minced
1 jalapeño seeded and finely minced
1 large red bell pepper diced
1 medium zucchini diced
1 cup corn kernels fresh, frozen, or canned are all fine
1 large tomato diced
1 cup cooked quinoa from about 1/2 cup uncooked
3 cups black beans approx two 14oz cans
1 Tbsp ground cumin
1 tsp hot smoked paprika
1 tsp chili powder
1 tsp salt
1/2 bunch cilantro chopped
1 cup shredded cheese optional
6 large whole wheat tortillas
Instructions:
Start by getting all of your chopping out of the way, it'll help everything come together faster once you start cooking. Chop the onion, crush the garlic, mince the jalapeño, dice the zucchini and red pepper, and set everything into little bowls or on plates. Now you're ready to go!
Heat the oil in a large skillet over medium-high heat.
Add the onions and sauté for about 5 minutes, stirring frequently, until the onions are soft and beginning to take on a bit of color.
Add the garlic and jalapeños and sauté for about 2 minutes more.
Now add the zucchini and red pepper and sauté for 8-10 minutes. The vegetables should be softened but not mushy, and just starting to brown.
At this point add the corn, and tomato and sauté for 2-3 minutes, until the mixture is well heated.
Add the quinoa, black beans, cumin, smoked paprika, chili, and salt. Stir to combine well.
Taste, and adjust seasonings if necessary. Stir in the cilantro, and remove from the heat.
Now you're ready to roll! Divide the burrito filling between the six tortillas (or more if you want smaller burritos), sprinkle with cheese if desired, and roll!
To freeze the burritos, wrap individually in foil or parchment paper, and place in a single layer in the freezer.
Note: To enjoy your freezer burrito you can plan ahead and pull one out of the freezer the night before, or just grab one straight from the freezer in the morning. I let mine thaw beside me on my desk, then heat it up in the office microwave at lunch-time. Enjoy!
Lazy Day Chili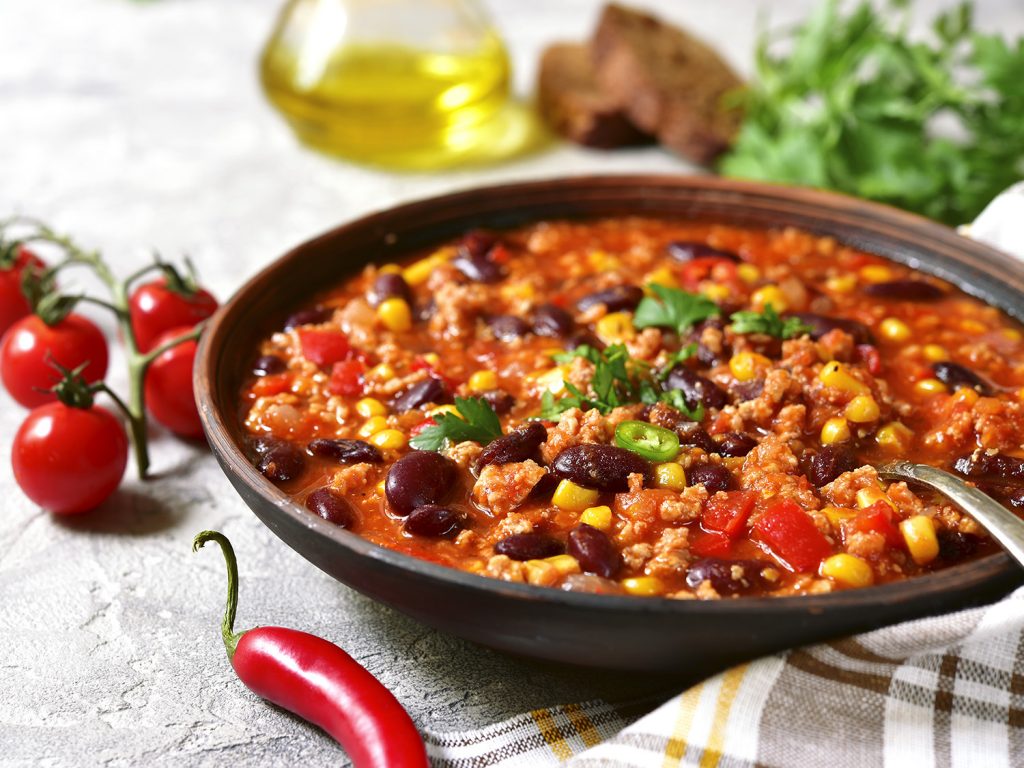 Recipe Adapted From: https://www.thecookierookie.com/6-ingredient-lazy-day-chili/
Cook Time: 25 minutes
Total Time: 30 minutes
Yields: 4 servings
Ingredients:
1.5 pounds lean ground beef
1-ounce packet chili seasoning
Two 15 oz. cans low sodium kidney beans, fully drained and rinsed
Two 16 oz. jars chunky salsa (the chunkiest you can find!)**see note
1.5 cups low sodium beef or vegetable broth
1/4 cup chopped fresh cilantro
optional garnishes: sour cream, shredded cheese, crackers, fresh cilantro, chopped onions, sliced jalapeños
Instructions:
Heat beef in a dutch oven over medium-high heat, crumbling as it cooks.
Once beef is crumbled, stir in the chili seasoning and continue to stir while it cooks.
When beef is no longer pink, stir in the beans, salsa, beef broth, and cilantro. Stir to fully combine.
Reduce heat to simmer and allow to cook for 15-20 minutes.
Serve immediately with garnishes of your choice or freeze for up to 6 months
One-Pot Pasta with Lemon and Zucchini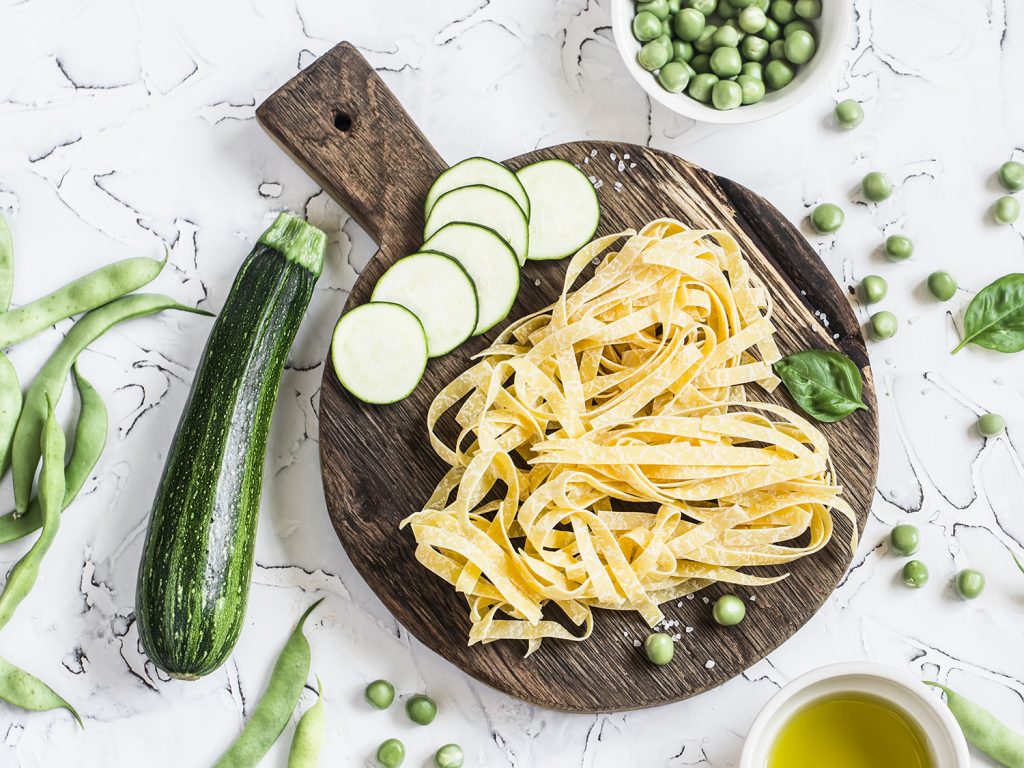 Recipe Adapted From: https://veganheaven.org/recipe/one-pot-pasta/
Cook Time: 15 minutes
Total Time: 20 minutes
Yields: 4 servings
Ingredients:
1 red onion
3 cloves of garlic
2 1/2 cups vegetable broth
1 cup full-fat canned coconut milk
9 oz spaghetti
lemon juice of 1/2 lemon
1 teaspoon lemon zest
3/4 cup frozen peas
1 medium zucchini
Dash of salt
Dash of pepper
Dash of red pepper flakes
Instructions:
Slice the red onion into long thin strips. In a large pot, heat some oil and sauté the onion for 3 minutes until it becomes translucent. Then add the garlic and cook for another minute.
Add the spaghetti, the vegetable broth, the coconut milk, and the lemon juice. Stir a couple of times and gently push the spaghetti in the liquid when they're soft enough. Cook for 15-18 minutes.
Meanwhile, use a potato or vegetable peeler to make zucchini noodles. Just slice the peeler over the washed zucchini from the top to the bottom. You can keep the skin on. Set aside.
When the spaghetti are al dente, stir in the zucchini noodles and the frozen peas. Cook for 3 more minutes and season with salt, pepper, and red pepper flakes. Enjoy immediately or freeze up to six months.
One-Pot Tandoori Quinoa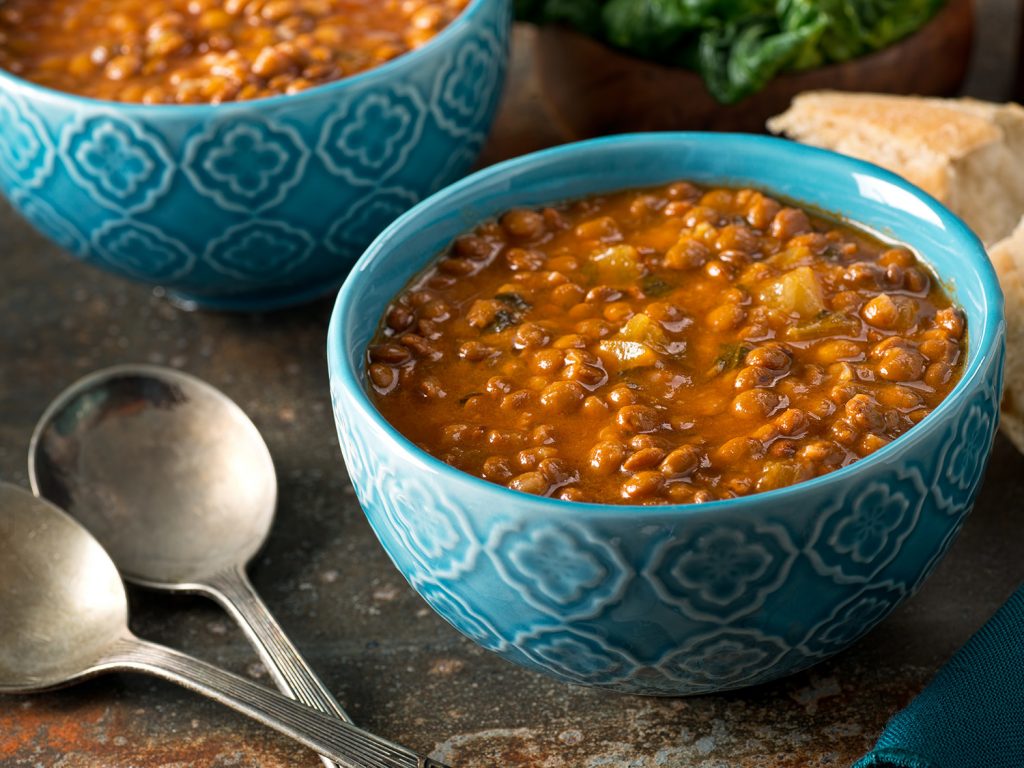 Recipe Adapted From: https://yupitsvegan.com/one-pot-tandoori-quinoa/
Cook Time: 30 minutes
Total Time: 40 minutes
Yield: 4 servings
Ingredients:
1 tbsp olive oil or coconut oil, or other plain oil
1 cup diced sweet potatoes (115 grams) (a small dice is best) (equals 1 small sweet potato or 1/2 of a large one)
1/2 red onion finely chopped
2 cloves garlic minced
1 jalapeno or 2 Indian green chiles seeded and minced
1 tbsp minced fresh ginger
2 tbsp garam masala 
1/4 tsp. cayenne pepper (optional)
1 cup uncooked quinoa, rinsed
1 and 1/4 cups low-sodium vegetable broth
1 and 1/2 cups cooked chickpeas (or one, 15 oz. can)
about 1 and 1/2 cups diced tomatoes (or one, 14 oz. can)
salt and pepper to taste
fresh lime juice for serving
chopped fresh cilantro for serving
Instructions:
In a large skillet, heat the olive oil over medium-high heat. Add the sweet potatoes and stir.
Cook the sweet potatoes, stirring frequently, for about 6-8 minutes or until softened significantly.
Add the onion and cook for another 2-3 minutes, stirring frequently, until softened. Add the garlic, chiles, and ginger, and cook for another minute until fragrant. Finally, stir in the garam masala and (optional) cayenne pepper and cook for 30 seconds.
Add the quinoa, vegetable broth, chickpeas, tomatoes, and stir to combine. Bring the mixture to a boil, then reduce to a simmer and cover, stirring occasionally.
Cook until the quinoa and sweet potatoes are cooked through, about 20 minutes. If there seems to be too much liquid, simmer uncovered for a few minutes to evaporate the excess. If the liquid runs out before the quinoa is done, add more water or broth and continue simmering. Add salt, pepper, and additional garam masala and cayenne to taste.
Serve with a squeeze of fresh lime or lemon juice and a generous sprinkle of chopped cilantro.
Enjoy immediately or freeze up to six months.